NEUTRON BOMB IS DEAD/LONG LIVE NEUTRON BOMB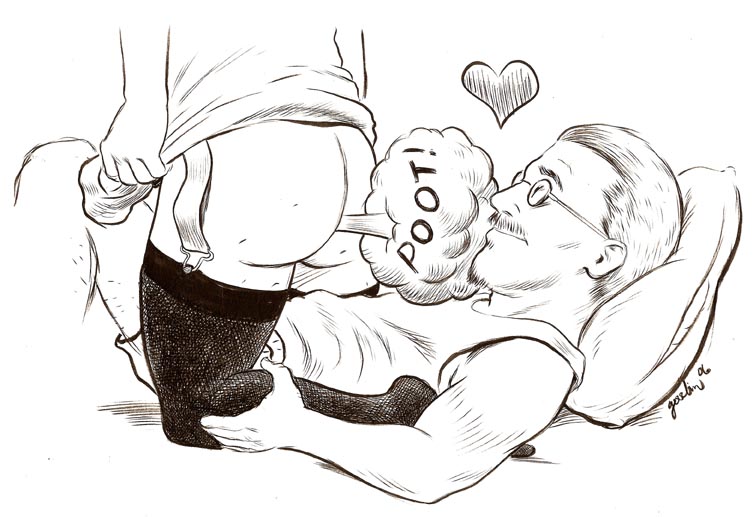 Drawing by Robert Gooden, courtesy of the Googleheim Museum.
My girlfriend Sharon and I stopped at a bookstore on the way to the June 23 Neutron Bomb. We were less than a week from a trip to Ireland, and I bought a thrift edition of "Dubliners" by James Joyce, wanting to give his writing a try while in his home country. I'd read a couple of Joyce's short stories in class, and they'd bored the pants off of me. 
Me and my Neutron Bomb cohosts Benny Kumming and Maggie Ritchie bonded over a mutual dislike of Joyce while in the Fiction Writing grad program at Columbia College Chicago. "James Joyce Sucks" became our unofficial slogan as we planned readings, Joyce standing in as the stuffy, self-indulgent and tedious literary prick that we were kicking against. 
I felt almost guilty buying "Dubliners" on the way to one of our events, and stashed the paperback on the passenger-side floor of Sharon's car, tucking it away like a teen might do to a pack of smokes, just hidden enough to avoid easy detection, but not so buried that it would be clear that it was contraband. I'll risk ridicule, or being grounded, to prove that I do what I want.
From a planning standpoint, the event was a nightmare. When we got to Cal's, it was locked because the owner Mike had forgot his keys. One reader canceled due to illness. Our musical act was at an uncle's funeral. Even though we'd promoted it a bunch because we had a reading by original L.A. punk Alice Bag, only about twenty people showed up.
But it all fell together. The locked doors and late start made up for a shorter bill. Everyone who came had fun, and got a good view of the show; like how realtors call a small apartment "cozy," an underattended event is "intimate." Still, I like flying by the seat of my pants and working with what I've got, and the bottom line was that I was moved by the readings that I did see, so why moan about who didn't read or play or come to bear witness? 
After Alice Bag and L.B. and Natalie Edwards ripped that shit, and goodbyes were said, Benny sat down next to me at the bar and told me that he didn't want to do Neutron Bomb anymore. He said it was taking time that he needed for other things. He just bought a house that he's renovating. He just got married. He's trying to finish his novel and grad school. As I was telling him I understood, Mike from Cal's came up and said, "Let me talk to you outside."
Standing on the sidewalk by the window I'd seen someone nod out on the first time I came to Cal's, Mike told me that the bar was closing at the end of summer. The building had been sold. We could still do our August show, but that would be it. Mike was looking on the upside, too. "This place needs a lot done to it. I'm gonna open a new bar, something nicer, where the bathrooms work." 
We both laughed.
In the car on the way home, I kicked at "Dubliners." Had I jinxed myself by buying it? I wondered if I should take a cue. If hosting readings was something that was coming to an end, the way grad school had the month before, the way I'd started a new job, the way Sharon and I had got a new apartment. Was Neutron Bomb something to be relegated to a past life? 
Something that I fight against, especially as I speed into my 30s, is not beating a dead horse. I don't want to be the dude who needs to hang it up, who is clinging to a dream, Chris Rock's "old guy at the club." I want to age gracefully, by getting better at doing the things that I enjoy. 
I like putting together events that I care about, that share two worlds that I love - independent literature and punk music - with one another. But if I fought to continue Neutron Bomb in a new venue, without one of my cohosts, would it be a busted, diminishing returns version of the original? Synthy Neutron Starship to my original, psychedelic Neutron Airplane?
I fell asleep, lulled by a heady concoction of Jameson whiskey and mediocre pizza. When I woke up the next morning, the first thought in my mind was, "Find a new place, maybe think of a new name, but keep putting together readings that you want to see. There's no need to stop. Just don't expect things to be the same."
I nodded and opened "Dubliners." The first story was like a fingernail, opaque and dry. I set the book down but, Joyce had worked his way into my head, a taunt to be responded to. Over the weeks, I got this urge to read his super-complicated novel "Ulysses" and picked up a copy. When something stops working, you've got to go on to the next.
- Chris L. Terry
The last Neutron Bomb will be on Saturday, August 18, from 7-9pm at Cal's Liquors (400 S. Wells St., corner of Van Buren). Co-hosted by Cool Dad. Readings by Jim Joyce (not James Joyce) of "Or Let It Sink" zine and Dan Terrill from Guns.com. Comedy by James Cardis. Music by Krayola. As always, it's free and 21+. Benny will be there.